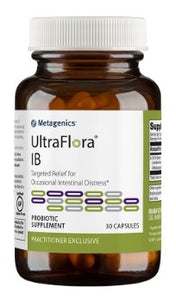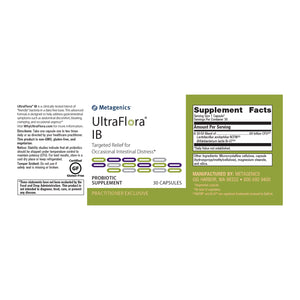 Description
UltraFlora®

 

IB
 is a clinically tested blend of "friendly" bacteria in a dairy free base. This advanced formula is designed to help address gastrointestinal symptoms such as abdominal discomfort, bloating, cramping, and occasional urgency.*
Helps relieve abdominal discomfort, bloating, cramping, bowel irritation, and occasional urgent bowel movements.*
Provides strain-identified

probiotics

that have been demonstrated effective for reducing bowel complaint frequency and improving reported quality of life.*
Promotes a healthy balance of GI

microflora

.*
High potency formula providing a great value per dose.
Additional Information
Ingredients: Microcrystalline cellulose, capsule (hydroxypropylmethylcellulose), magnesium stearate, and silica.
Directions: Take one capsule one to two times daily or as directed by your healthcare practitioner.
Notice: Stability studies indicate that all probiotics should be shipped under temperature control to maintain potency (CFU). For best results, store in a cool dry place or keep refrigerated.
This product is non-GMO, gluten-free, and vegetarian.
*Daily Value not established.
†Vegetarian capsule.
††At date of expiration.
NCFM® is a trademark of the North Carolina Dairy Foundation.