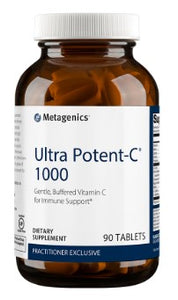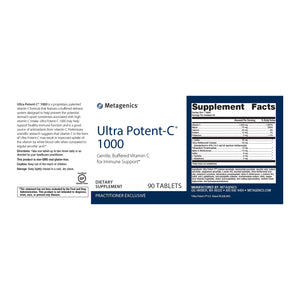 Description
Ultra Potent-C® 1000 is a proprietary, patented vitamin C formula that features a unique blend of metabolites designed to enhance the utilization of the preparation. Its buffered delivery system is designed to help prevent the potential stomach upset that is sometimes associated with high vitamin C intake. Ultra Potent-C 1000 supports healthy immune function by helping promote natural killer cell and white blood cell activity. Preliminary scientific research suggests that vitamin C in the form of Ultra Potent-C® may result in improved uptake of the vitamin by white blood cells when compared to regular ascorbic acid.*
Scientifically shown to promote natural killer (NK) cell activity and white blood cell (WBC) function.*
Shown to have 18% to 25% higher uptake in WBCs than plain

vitamin

C (ascorbic acid).*
Provides vitamin C and a metabolite system designed for enhanced utilization.*
Prevents potential stomach upset associated with vitamin C by using buffering agents.*
Ingredients: Ultra Potent-C®† (calcium ascorbate, niacinamide ascorbate, ascorbic acid, sodium ascorbate, magnesium ascorbate, L-lysine HCl, ascorbyl palmitate, citrus bioflavonoid complex, potassium ascorbate, tetrasodium pyrophosphate, alpha D-ribofuranose, L-cysteine HCl, xylitol, and L-glutathione), microcrystalline cellulose, croscarmellose sodium, silica, magnesium stearate (vegetable), stearic acid (vegetable), and coating (hypromellose, medium-chain triglycerides, and hydroxypropylcellulose).
Directions: Take one tablet up to two times daily or as directed by your healthcare practitioner.
This product is non-GMO and gluten-free.
Caution: Keep out of the reach of children.
Storage: Keep tightly closed in a cool, dry place.
*Daily Value not established.
†
Ultra Potent-C
®
U.S. Patent #5,626,883.