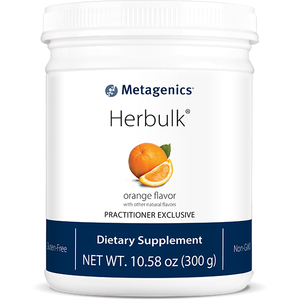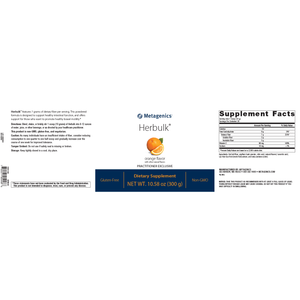 Description
Herbulk®features 7 grams of dietary fiber per serving. This powdered formula is designed to support healthy intestinal function, and offers great support for those who want to promote healthy bowel motility.*
Supports healthy intestinal function.*
Great for those who have occasional loose stools.*
Supplies satiety-enhancing fiber to create a feeling of fullness.*
Natural Orange Flavor
Directions
Blend, shake, or briskly stir 1 level scoop (10 grams) of Herbulk into at least 8-12 ounces of water, juice, or other beverage, or as directed by your healthcare practitioner.
Other Ingredients: Oat hull fiber, psyllium husk powder, citric acid, natural flavors,† ascorbic acid, Luo Han Guo fruit (monk fruit) extract, and beta-carotene (color).

This product is Gluten Free and Vegetarian.
Caution:
 As many individuals have an insufficient intake of fiber, consider reducing consumption to one quarter to one half scoop and gradually increase over the course of one week for improved tolerance.
Storage:
Store tightly closed in a cool, dry place.
Tamper Evident
Do not use if safety seal is missing or broken.