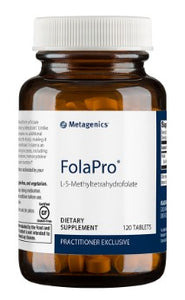 Description
FolaPro®
 features the methylated form of folate called L-5-methyltetrahydrofolate as Metafolin
®
. Unlike folic acid, this form of folate requires no additional metabolic steps to be utilized by the body, making it a preferred choice for many individuals. Folate is an essential nutrient for many body processes, including hormone metabolism, DNA synthesis, homocysteine metabolism, and nervous system function.*
Provides L-5-MTHF, a metabolically active form of folate, helping to ensure all of the critical benefits of folate nutrition are realized.*
Requires no additional metabolic steps to be utilized by the body, making it a preferred choice for many individuals.*
Nutritionally supports many metabolic processes.*
Additional Information
Other Ingredients: Microcrystalline cellulose, stearic acid (vegetable), and silica.
Directions:Take one tablet daily or as directed by your healthcare practitioner.
Caution: If pregnant or nursing, or taking medication, please consult your healthcare practitioner before use. Keep out of the reach of children.
Storage: Keep tightly closed in a cool, dry place.
This product is Gluten Free and Vegetarian.
Formulated to Exclude: Wheat, gluten, soy, dairy products, egg, nuts, tree nuts, fish, crustacean shellfish, colors, artificial sweeteners, and preservatives.
† As Metafolin® U.S. Patent Nos. 5,997,915; 6,254,904.