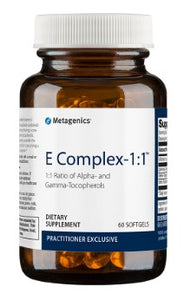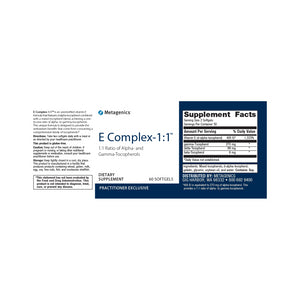 Description
E Complex-1:1™
 is an unesterified vitamin E formula that features d-alpha-tocopherol combined with a mixed tocopherol blend, achieving a one-to-one ratio of alpha- to gamma-tocopherols. This unique formula is designed to provide the antioxidant benefits that come from consuming a comprehensive family of tocopherols.*
Vitamin

E inhibits protein kinase C activity, which supports cellular health in several types, including smooth, muscle, platelets, and monocytes.*
Delivers an especially powerful blend of different tocopherols for a broader range of antioxidant protection against the ravages of free radicals.*
Provides balanced levels of gamma- and alpha-tocopherols that are more closely associated with consumption of vitamin E-rich foods.*
Provides gamma-tocopherol for unique antioxidant protection.*
Additional Information
Other Ingredients: Gelatin, glycerin, soybean oil, and water.
Contains: soy.
DIRECTIONS: Take two softgels daily with a meal or as directed by your healthcare practitioner.
CAUTION: Keep out of the reach of children.
STORAGE: Keep tightly closed in a cool, dry place.
This product is Gluten Free.
Formulated to Exclude: Wheat, gluten, dairy products, egg, nuts, tree nuts, fish, crustacean shellfish, colors, artificial sweeteners, and preservatives.
This product is manufactured in a facility that produces products containing wheat, egg, soy, tree nuts, fish, and crustacean shellfish

†400 IU is equivalent to 270 mg of alpha tocopherol. This provides a 1:1 ratio of alpha to gamma tocopherols