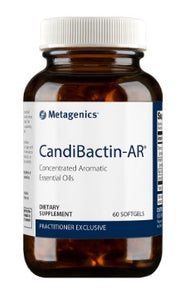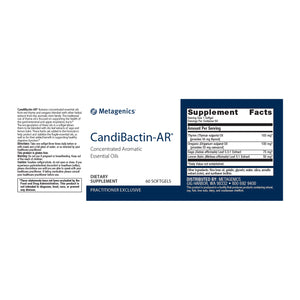 Description
CandiBactin-AR® features concentrated essential oils from red thyme and oregano blended with other herbal extracts from the aromatic mint family. The traditional use of thyme oil is focused on supporting the health of the gastrointestinal and upper respiratory tracts.*

The encapsulation of these oils in a softgel allows them to be blended with dry leaf extracts of sage and lemon balm. These herbs are added to the formula to help protect and stabilize the fragile essential oils, as well as for their added benefit in supporting healthy digestive function.*
Helps encourage a healthy environment in the intestinal and respiratory tracts, supports healthy digestive function, and may provide indirect support for intestinal mucosal integrity.*
Designed to harmonize digestive and respiratory function, which traditional herbalists believe is essential for strong immune function.*
Unique softgel encapsulation technology allows the essential oils to be blended with dry leaf extracts of sage and lemon balm—herbs that complement and stabilize the fragile essential oils.
Additional Information
Ingredients: Rice bran oil, gelatin, red thyme oil, glycerin, oregano oil, sage leaf extract powder, lemon balm leaf extract, water, silica, annatto extract (color), and lecithin (soy).

Contains: soy.
Directions: Take one softgel three times daily before or with meals or as directed by your healthcare practitioner.
Caution: If pregnant or nursing, or taking medication, please consult your healthcare practitioner before use. Keep out of the reach of children.
This product is Gluten Free.
Formulated to Exclude: Wheat, gluten, dairy products, egg, nuts, tree nuts, fish, crustacean shellfish, artificial sweeteners, and preservatives. See Allergen Statement.✧
✧This product is produced in a facility that produces products containing soy, fish, nuts, tree nuts, dairy, and crustacean shellfish.
† Range reflects natural variation. Content of each batch is determined by gas chromatography (GC).