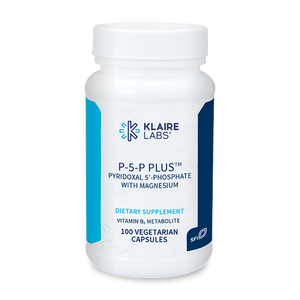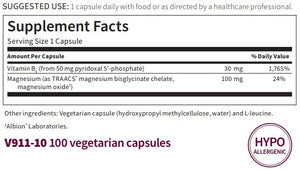 Description
Pyridoxal 5'-Phosphate (P-5-P, or PLP) is the biologically active form of vitamin B
6
. It is formulated with highly bioavailable bisglycinate magnesium, an essential mineral that assists in B
6
 metabolism. Magnesium bisglycinate chelate is well tolerated and easily and comfortably absorbed without GI tissue irritation. P-5-P Plus is a unique formula designed to support the health and function of the brain, nervous system, blood vessels, skin, and eyes.
†
Suggested Use
1 capsule daily with food or as directed by a healthcare professional.
Allergy Statement
Free of the following common allergens: milk/casein, eggs, fish, shellfish, tree nuts, peanuts, wheat, gluten, soybeans, and yeast. Contains no artificial colors, flavors, or preservatives.
Caution
If you are pregnant, nursing, have a medical condition, or taking prescription drugs, consult your healthcare professional before using this product. Keep out of reach of children.