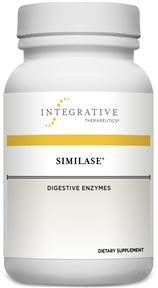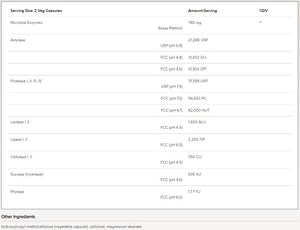 Description
Similase® is a comprehensive, proprietary blend of digestive enzymes to support the digestion of all food types.* Similase helps relieve occasional indigestion, gas and bloating and provides comprehensive support for digestion and assimilation of nutrients from the diet.*
Similase® is a proprietary blend of Microbial Enzymes that are active across a broad pH range in the gastrointestinal tract.* It provides a broader range of digestive enzymes.*
As a result, Similase provides support of carbohydrate, protein, fat and fiber digestion.*
Suggested Use
Take 2 capsules at the beginning of each meal, up to 3 times daily, or as recommended by your healthcare professional.
Other Ingredients
hydroxypropyl methylcellulose (vegetable capsule), cellulose, magnesium stearate.
Does Not Contain
artificial coloring
artificial flavoring
dairy products
ingredients of animal origin
preservatives
salt
sugar
yeast
Caution
If pregnant, nursing, or taking prescription drugs, consult your healthcare professional prior to use.
Not recommended for use if peptic ulcer, gastritis or heartburn is present.