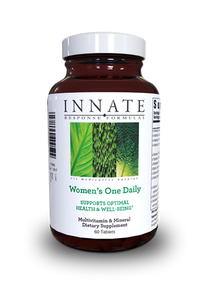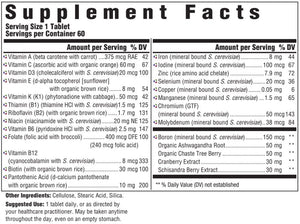 Description
Please Note: This product contains iron
Designed to provide women with superior nutritional support from a unique combination of essential nutrients and whole foods, in a convenient one per day formula.

Formulated with additional supportive and balancing herbs to promote optimal health, radiance and vitality. The Complete Active Range also provides vital antioxidant protection. Recommended for patients who have difficulty complying with a multi-dosage formula.
Women's One Daily is crafted exclusively from nutrient-rich whole foods to support and promote the health of women in their reproductive years. Organic botanicals known to help balance and support the reproductive, endocrine and nervous systems were included to help meet the demands of a woman's cycle. Provided in the quantities consistent with the traditional tonic use of herbs, the organic botanicals include those revered as gentle support for endocrine and immune restoration such as ashwagandha, chaste tree berry and schisandra.* Iron is an important mineral with which to supplement, particularly for women during the reproductive years; Women's One Daily supplies iron from FoodState Nutrients, which is not only gentle on the stomach, but also non-binding.* Women's One Daily is the perfect one daily foundation to support the female physiology.
The tonic whole herbs chosen for Women's One Daily have traditionally been used by many cultures to help support and strengthen the unique health systems and reproductive stages of a woman's life. The following herbs support the following health systems:


Reproductive System
Chaste Tree Berry (Vitex), Licorice, Ginger, Red Raspberry.
These herbs have traditionally been used as reproductive tonics to help balance a woman's reproductive system. Endocrine System

Licorice, Gotu Kola, Wild Green Oat Seed.
These herbs have widely been used to help a woman's adrenal and nervous system adapt physiologically to stress. Blood Production

Nettle, Yellow Dock, Red Raspberry.
Naturally rich in nourishing vitamins and minerals, particularly iron, an important mineral for women to replenish.