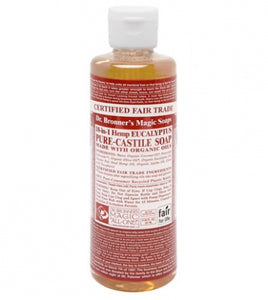 Description
Dr. Bronner's Eucalyptus Liquid Soap opens your pores and clears your sinuses while enveloping the body in its warm, invigorating vapors. All soaps are certified organic under the USDA National Organic Program. All soaps are also certified Fair Trade. Packaged in 100% post-consumer recycled (PCR) plastic bottles.
Ingredients:
Water, Organic Coconut Oil*, Potassium Hydroxide**, Organic Eucalyptus Oil, Organic Olive Oil*, Organic fairDeal Hemp Oil, Organic Jojoba Oil, Citric Acid, Tocopherol
* CERTIFIED FAIR TRADE INGREDIENTS
** None remains after saponifying oils into soap and glycerin
Suggested Uses:
Completely biodegradable and vegetable-based, our Classic Liquid Soaps Made With Fair Trade & Organic Oils have been called the "Swiss-army knife" of cleaning – usable for just about any cleaning task. These simple, ecologically formulated soaps are gentle enough for washing body, face or hair, but also powerful enough for tasks like dishwashing, mopping, laundry and even pest control. Different tasks call for different dilutions of the soap. To get you started with some basic uses, check out Lisa Bronner's "Liquid Soaps Dilutions Cheat Sheet."