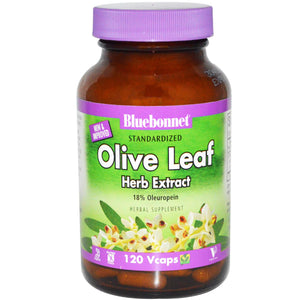 Description:
Bluebonnet's Standardized Olive Leaf Herb Extract Capsules provide a standardized extract of oleuropein, the most researched active constituent found in olive leaf. A clean and gentle water-based extraction method is employed to capture and preserve olive leaf's most valuable components. Available in easy-to-swallow vegetable derived capsules for maximum assimilation/absorption and for a truly vegetarian/vegan formula.
Other Ingredients:
100% Kosher vegetable capsules, silica, vegetable cellulose, vegetable magnesium stearate.
Free of milk, egg, fish, crustacean shellfish, tree nuts, peanuts, wheat and soybeans. Also free of corn, yeast, gluten, barley, rice, sodium and sugar.
Bluebonnet KOF-K Certification #K-00007000