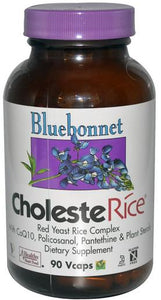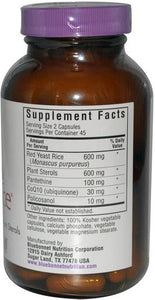 Description:

Bluebonnet's CholesteRice Capsules provide red yeast rice, plane sterols, pantethine, natural trans-isomer coenzyme Q-10 and sugar cane wax derived policosanol.
This unique formula helps to maintain cholesterol levels that are already in the normal range. Available in easy-to swallow vegetable capsules for maximum assimilation and absorbtion.
Suggested Use
As a dietary supplement, take two capsules daily, preferably with a meal or as directed by your healthcare practitioner.
Other ingredients:
100% Kosher vegetable capsules, calcium phosphate, vegetable cellulose, vegetable magnesium sterate.
Contains: Soybeans.
Free of milk, eggs, fish, crustacean shellfish, tree nuts, peanuts and wheet. Also free of corn, gluten, barley, sodium and sugar.
Bluebonnet's KO-K certification #K-0000700
Warnings
Caution: Do not use this product, if you are pregnant, trying to conceive or breastfeeding. If taking prescription medication, speak to your physician before use.