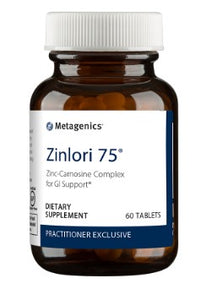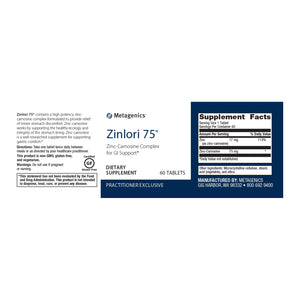 Description
Zinlori 75®
 contains a high potency, zinc-carnosine complex formulated to provide relief of minor stomach discomfort. Zinc-carnosine works by supporting the healthy ecology and integrity of the stomach lining. Zinc-carnosine is a well researched supplement for supporting gastric comfort.
Supports a healthy gastric environment.*
Helps relieve mild and occasional gastric discomforts, including heartburn, nausea, bloating, and upset stomach.*
Promotes a healthy gastric

microbial balance

.*
Helps maintain the integrity of the protective gastric mucosal lining possibly by supporting healthy mucus secretion.*
Some research indicates that zinc-carnosine may protect gastric mucosal cells without altering prostaglandin

metabolism

.*
Gastro-supportive benefits demonstrated in over 20 published studies.*
Same raw material used successfully by healthcare practitioners in Japan since 1994.
Does not affect stomach digestion.*
Clinically effective dosage in just two tablets daily.*
Additional Information
Other Ingredients: Microcrystalline cellulose, stearic acid (vegetable), and silica.
Directions: Take one tablet twice daily between meals or as directed by your healthcare practitioner.
Warnings: Do not use if pregnant or nursing.
This product is non-GMO, gluten free, and vegetarian.
Formulated to Exclude: Wheat, gluten, soy, dairy products, nuts, tree nuts, fish, crustacean shellfish, colors, artificial flavors, and preservatives.
*Daily Value not established.