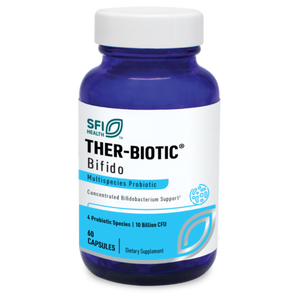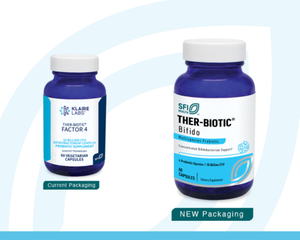 FORMERLY Ther-Biotic Factor 4
Benefits and Features
Promotes gastrointestinal wellbeing†
Helps ease occasional constipation and diarrhea†
Supports the production of short-chain fatty acids (SCFAs)†
A 10B CFU concentrated blend of 4 Bifidobacterium probiotic species to support gastrointestinal and immune health.†
Detail Overview
Bifidobacteria play an important role in supporting gut health, digestion, and immune health.† These specific Bifidobacterium strains may assist in supporting a balanced intestinal environment by producing lactic acid, hydrogen peroxide, and other fermentation products that may help support the body's natural defenses against unfriendly bacteria, yeast, and viruses.† These probiotic species may also help support the immune system by competing with unwanted or harmful bacteria for nutrients and space for colonization.† They also produce short-chain fatty acids (acetate, propionate, and butyrate) which nourish the colon.† Ther-Biotic® Bifido is free of prebiotics to support those who are sensitive to specific starches and fibers. Because this product is made up of exclusively Bifidobacteria, it may be ideal for those who have concerns about the potential histamine-producing activity of certain strains of Lactobacillus bacteria.
Allergy Statement
Free of the following common allergens: milk/casein, eggs, fish, shellfish, tree nuts, peanuts, wheat, gluten, and soybeans. Contains no artificial colors, flavors, or preservatives.
Caution
If you are pregnant, nursing, have a medical condition, or taking prescription drugs, consult your healthcare professional before using this product. Keep out of reach of children.