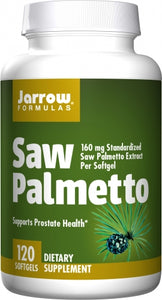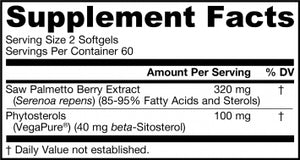 Description
THIS PRODUCT HAS BEEN DISCONTINUED BY THE MANUFACTURER AND IS NO LONGER AVAILABLE FOR PURCHASE

Saw Palmetto (Serenoa repens) berry extract is standardized to contain 85-95% as active fatty acids and sterols, including beta-sitosterol, which support prostate health.*
Jarrow Formulas® Saw Palmetto is a supercritical CO2 extract. The supercritical CO2 process yields higher concentrations of biologically active free fatty acids than ethanolic (alcohol) extracts.
Jarrow Formulas® Saw Palmetto Extract is in a base of Pumpkin Seed Oil and fortified with phytosterols.
This product complies with European and proposed USP Monographs for Saw Palmetto.
Keep out of the reach of children.