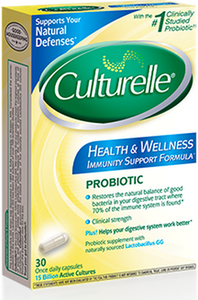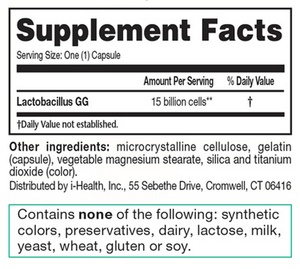 Description
Culturelle Health & Wellness Immunity Support Formula contains 15 Billion active cultures of 100% Lactobacillus GG, the most clinically studied probiotic strain.†† That's a clinical strength dose of probiotics in every capsule. When taken every day, Culturelle supports your natural defenses for stronger core health.*
How Does it Work?
Culturelle Health & Wellness safely and naturally restores the balance of good and non-beneficial bacteria in your digestive tract, where 70% of the body's immune system resides.* Balancing this bacteria not only gives your whole system a tune up and supports your natural defenses, but also helps your digestive system work better.*
Benefits of Culturelle Health & Wellness Immunity Support with Lactobacillus GG


Supports your natural defenses*


Restores the natural balance of good bacteria in your digestive tract
where 70% of the immune system is found*


Clinical strength


Suggested Use
As a dietary supplement, take one (1) capsule per day to support your immune system while promoting digestive health.*
For children 1 year and older: Take (1) capsule daily. Capsule may be opened and mixed into a cool drink or food. Do not add to warm or hot foods or beverages. Consult your medical professional for more information.
Storage
Keep Culturelle in a cool, dry place away from direct sunlight. Keep Culturelle at room temperature or below.