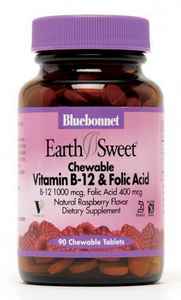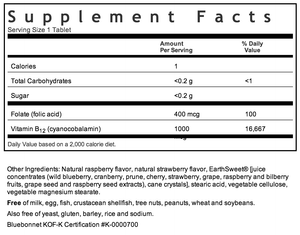 Description
Bluebonnet's EarthSweet® Chewable Vitamin B-12 & Folic Acid Tablets contain 1000 mcg of pure crystalline vitamin B-12 and 400 mcg of folic acid in maximum absorption chewable form. Formulated in a natural base of raspberry and strawberry.
EarthSweet® is a registered trademark of Bluebonnet Nutrition.
Earthsweet® is a nourishing blend of fruit juice concentrates (wild blueberry, cranberry, prune, cherry, strawberry, grape, raspberry and bilberry fruits, grape seed and raspberry seed extracts) and natural cane crystals.