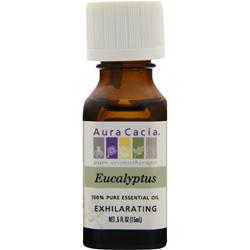 Description:
Eucalyptus essential oil is fresh, penetrating and aromatic.
Botanical Name:
Eucalyptus globulusLabille
Common Name:
Eucalyptus, Globulus
Plant Part:
Leaves
Form:
Essential Oil
Family:
Myrtaceae
Synonyms:
Blue Gum Tree, Stringy Bark Tree
Origin:
Today eucalyptus essential oil is distilled not only in Australia and Tasmania but in Brazil, California, China, India, Portugal, Russia and Spain.
Botanical Description:
Very large evergreen tree with pale bark, long straplike leaves, white filamentous flowers and cup-shaped seed capsules.
Method of Extraction:
All eucalyptus oils are produced through steam distillation of the fresh leaves. The oil is clear and colorless to pale yellow.
Aroma Profile:
Eucalyptus has a fresh, powerful, camphoraceous and cineolic top note, and a diffusive, penetrating middle note. The dry out note is camphoraceous and less tenacious.
Major Constituents:
cineol, also known as eucalyptol
Common Adulterants:
Not usually adulterated.
Regulatory Status:
GRAS 182.20. FDA 121.1163
Aroma Benefits:
heat-building, warming, confidence building, encouraging, energizing, unblocking, vitalizing, bracing, clarifying, invigorating, cleansing, purifying, refreshing, soothing, mood-lifting, uplifting
Blends Well With:
rosemary, camphor, spike lavender, lavandin, lavender, clove, citrus, blends with wintergreen and german chamomile in a massage blend and with peppermint in an invigorating blend.
Safety Data:
Non-toxic, non-irritant, non-sensitizing.