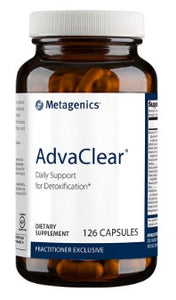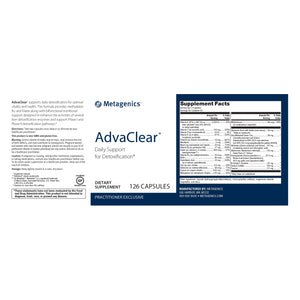 Description
AdvaClear® supports daily detoxification for optimal vitality and health. This formula provides methylated B12 and folic acid along with bifunctional support designed to enhance the activities of several liver detoxification enzymes while promoting balanced activity of Phase I and Phase II detoxification pathways.*
Promotes overall well-being by supporting balanced

detoxification

.*
Provides antioxidant protection against reactive oxygen intermediates produced during the detoxification process.*
Suggested Use
Use as directed by your healthcare practitioner.
Other Ingredients
Capsule (hydroxypropylmethylcellulose), choline bitartrate [hydrogenated vegetable oil encapsulate (one or more of soybean, palm, and cottonseed oils)], magnesium stearate (vegetable), and silica.
This product is gluten free.
Warning
Excess vitamin A intake may be toxic and may increase the risk of birth defects. Pregnant women and women who may become pregnant should not exceed 10,000 IU of preformed vitamin A (retinyl palmitate) per day.
* These statements have not been evaluated by the Food and Drug Administration. This product is not intended to diagnose, treat, cure, or prevent any disease.