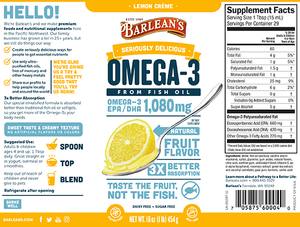 Description
Notice something different? We've changed the name from Omega Swirls to Seriously Delicious Omega-3s and the labels have a fresh new look. We think our Omega-3 supplements are both serious and delicious which is why we've changed the name. But, don't worry: nothing about our recipe is changing. They're still the same, creamy delicious Omega-3 supplements you've always loved.
3X the absorption of Omega-3s than with regular fish oil or softgels
Kid-favorite flavor & NO fish burps
Non-GMO, Gluten Free; no artificial flavors, colors or sweeteners; no added sugar
Enjoy right off the spoon or add to yogurt, oatmeal or smoothies
Made with ultra-purified fish oil: free of mercury and other heavy metals
No. Fish. Burps. We know it's is hard to believe, but when we say no fish burps, we mean no fish burps. Really. Want some more good news? The taste and texture of Barlean's Lemon Zest Omega Swirl® is so delicious that kids ask for their fish oil. In fact, Omega Swirl® is a family favorite in the autism community for that reason. A few other important things about Barlean's Omega Swirl®: just two tsp provide an adult serving of 720mg of Omega-3 EPA/DHA. Omega-3s are essential fatty acids that cannot be produced by the body, so we need to get them from foods or supplements. And because it's emulsified, you absorb 3X more Omega-3s per spoonful than with standard fish oil or softgels. It's also free of mercury and other heavy metals. And with a fresh lemon meringue pie flavor that people of all ages love, it doesn't get any easier to get your daily dose of Omega-3s.