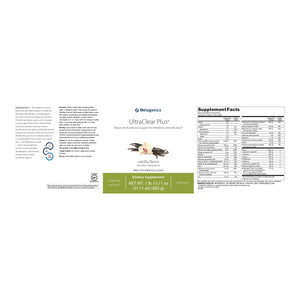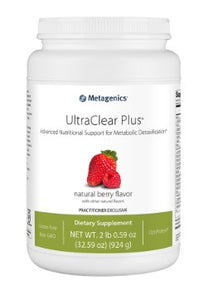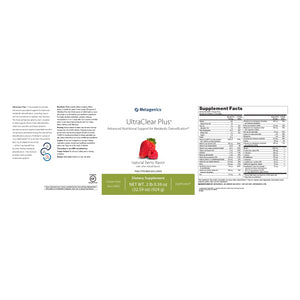 Description
UltraClear Plus® is formulated to provide enhanced, specialized support for balanced metabolic detoxification, including macro- and micronutrients to address liver function. This formula features glycine and L-cysteine to help support Phase II liver detoxification. Green tea catechins and beta-carotene provide protection against potentially harmful compounds generated during the natural liver detoxification process. Provided in a base of 13 g OptiProtein® (10 g of intact rice protein plus 3 g of added amino acids)—which may benefit liver function during metabolic detoxification—this formula provides well-rounded nutritional support.*

Benefits:
Designed to support healthy Phase I and Phase II detoxification function.
Supports balanced detoxification capacity.
Other Ingredients: Rice protein concentrate, rice syrup solids, natural flavors,††† olive oil, medium-chain triglycerides, silica, and rice maltodextrin.
Directions: Shake canister before scooping. Blend, shake, or briskly stir about 2 level scoops (42 grams) of UltraClear Plus into 8 fluid ounces of chilled water or juice twice daily or as directed by your healthcare practitioner. For highly sensitive individuals, consider reducing consumption to ½ to 1 scoop with 4 to 5 ounces of chilled water or juice twice daily during the first 3 to 4 days before starting a full daily dose.
Warning: Excess vitamin A intake may be toxic and may increase the risk of birth defects. Pregnant women and women who may become pregnant should not exceed 10,000 IU of preformed vitamin A (retinyl palmitate) per day unless instructed to do so by a healthcare practitioner.
Caution: Do not use if pregnant or nursing. If taking medication, please consult your healthcare practitioner before use. Keep out of the reach of children.
This product is non-GMO and gluten-free.
Tamper Evident: Do not use if safety seal is missing or broken.
Storage: Keep tightly closed in a cool, dry place.
*Percent Daily Values are based on a 2,000 calorie diet.
**Daily Value not established.
†As Metafolin®. Metafolin® is a registered trademark of Merck KGaA, Darmstadt Germany
††Contains no more than 4% caffeine.
†††No MSG