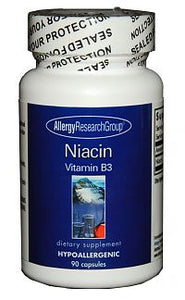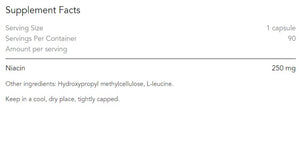 Description
Also known as nicotinic acid, niacin is an essential nutrient, positioned at the core of NAD/NADH and NADP/NADPH, which are major redox-active "electron storage" compounds. One or both of these "redox pairs" is involved in every major biochemical pathway. They participate in the trafficking of electrons as "reducing equivalents", the electron packets that facilitate metabolism. Niacin is involved in the production of energy, detoxification and the normal regulation of blood sugar and cholesterol.
Suggested Use
As a dietary supplement, 1 capsule two or three times daily with meals, or as directed by a healthcare practitioner.
WARNING: Niacin can cause skin flushing and tingling (the "niacin flush"). Do not take large amounts of niacin (greater than 1.5 grams per day) without first consulting a healthcare practitioner.